We are still accepting all types of samples.
However, we kindly ask you to organize the delivery by e-Mail or by phone in advance. Try to find us in rooms 2.10.0 or E.09.0 or better
call 24947
. You may only enter the buildings of the University if you have been fully vaccinated, have been recovered or have been tested negative.
The Core Facility - Proteomic Mass Spectrometry at Weinberg Campus is a collaboration between the
Faculty I of Natural Science - Biological Science
and the
Zentrum für Medizinische Grundlagenforschung (ZMG)
within the
Medical Faculty
and will provide a full proteomic infrastructure for identification and characterization of proteins and peptides.
We are now running a new state-of-the-art instrument:
Orbitrap Exploris 480 with FAIMS
.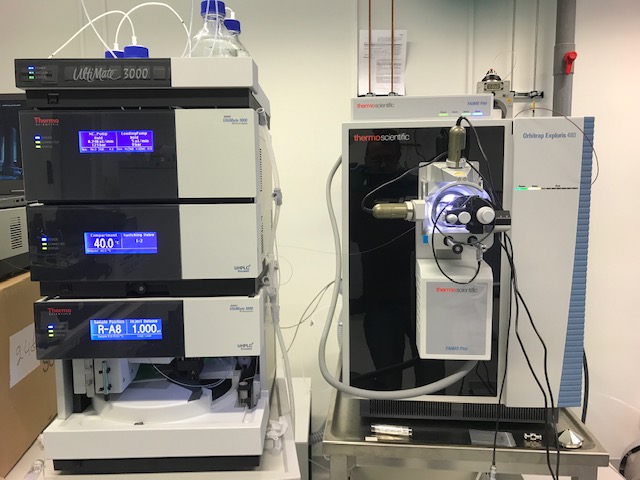 The Facility consists of nanoLC/MALDI-MSMS platforms from Bruker, Thermo Fisher Scientific and Waters, and is supported by extensive sample handling and data analysis facilities. We are accepting your enquiries and samples at
lab 2.70 in the Charles Tanford Centre
. We are also available for consultation. Pease email or phone: 22818.
Our service provides support for researchers in all fields, with analyses ranging from small molecule characterisation, and single protein identifications, through intact protein exact mass measurements and PTM characterisation to large-scale high-throughput quantitative proteomics and thorough data analyses.
Our online pricing list.